Eric Aboagye is Professor of Cancer Pharmacology & Molecular Imaging in the Department of Surgery and Cancer at Imperial College London, Director of the CRUK-EPSRC-MRC-NIHR Comprehensive Cancer Imaging Centre in London, UK and Head of the MRC-CSC Molecular Therapy group. He joined the Imperial College London after a PhD at the CRUK Beatson Laboratories in Glasgow, UK and post-doc fellowship at The Johns Hopkins University & Hospital in Baltimore, USA. His group is interested in the discovery and development of new methods for experimental and clinical cancer molecular imaging. In the past 5 years, the team has invented and translated three novel cancer diagnostics into human application. Prof. Eric Aboagye is member of the Artificial Intelligence Network of the Imperial College London.

Javier Arbizu is Professor of Radiology and Nuclear Medicine at the University of Navarre in Pamplona (Spain). He is also responsible of PET and SPECT imaging in Neurology, Neurooncology and Endocrinology and of Radionuclide Therapy in the Nuclear Medicine Service of the University Clinic of Navarre. As Nuclear Medicine physician, Dr. Javier Arbizu has dedicated most of his time to work on neuroimaging both in clinical assistance and research, particularly interested in clinical and prodromal neurodegenerative disorders, and neurooncology. He is currently leading the Spanish amyloid PET imaging registry project founded by the Spain Government and Industry.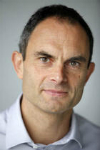 Guy Bormans is the Head of Radiopharmaceutical Research at the University of Leuven, Belgium and Professor at the Faculty of Pharmaceutical Sciences of KU Leuven University. Prof. Dr. Guy Bormans graduated as a pharmacist at the University of Leuven in 1986 and obtained a PhD in Pharmaceutical Sciences at the same institute. He is an accredited radiopharmacist and qualified person. Prof. Dr. Guy Bormans has expertise in development and translational evaluation of PET-radiopharmaceuticals. He is co-author of 300 peer reviewed publications in the field of radiopharmaceuticals.

Antony Gee is Professor of PET and Radiochemistry in the Imaging Chemistry & Biology Department within the School of Biomedical Engineering & Imaging Sciences at King's College London, UK and a visiting Professor at the Department of Chemistry, Imperial College London, UK. He obtained a BSc (Hons) in Chemistry at the University of Sussex (1985), and his PhD in Radiopharmaceutical Organic Chemistry at Uppsala University, Sweden (1991). In terms of research, a number of very active research projects are in progress including the development of rapid labelling synthetic techniques with short-lived positron-emitting radionuclides, small molecule-protein / small molecule-membrane interactions, the design of PET imaging probes, and the understanding of in vivo pharmacology.


Uwe Haberkorn is the Head of the Department of Nuclear Medicine at the Heidelberg University Hospital in Germany and of the Nuclear Medicine Clinical Cooperation Unit at the German Cancer Research Center (DKFZ) in Heidelberg. He is also a Professor of Nuclear Medicine at the University of Heidelberg. Prof. Dr. med. Uwe Haberkorn does research in Nuclear Medicine. His current projects are PSMA PET in prostate cancer and use of FAP ligands for tumor imaging and therapy. In 2018, he received the Erwin Schrödinger Prize.